Trout Creek Condos – Resort with Amenities
Conference Center
Our Conference Center is the perfect spot for small gatherings such as family reunions, business meetings and retreats.
This beautiful spot offers a full kitchen, gas log fireplace, gas barbecue grill, tables and chairs. This building also offers free wireless internet for your convenience.
Ask one of our reservationists about reserving the Conference Center for your group!
Fishing Ponds
Trout Creek has two stocked fishing ponds on-site for you to enjoy. They are stocked several times throughout the summer with trout and other pan fish. Bring your pole with you or we also have some available at the front desk for our guests.
Northern Michigan has so many fishing options to choose from. The Great Lakes as well as the inland lakes are great for walleye, perch and salmon.
Ponds are on private property so you don't need a fishing license!
Fitness Center
Weight machines – Free Motion
Aerobic machines – 2 treadmills, elliptical machine, exercise bike
Heated indoor pool
Hot tub
Sauna
Bathrooms with showers
Fitness Center Open Year Round
Indoor Pool and Hot Tub
Heated Pool
Sauna
Hot Tub
Please note that the indoor pool is available for the following dates:
Closed for a 3 week period in the spring for maintenance.
For specific dates please call 800-748-0245
Game Room
The Game Room, located by the outdoor pool and tennis courts, is open in July and August.
Play some good old fashioned fun!
Hiking Trails in the Summer
When you visit Trout Creek over the summer, do not forget to bring your hiking shoes with you. Our hiking trails are marked so that you can easily find your way.
Petoskey and Harbor Springs are loaded with beautiful trails to explore. The North Country Trail and the Petoskey State Park are just a few to keep in mind.
Ask the front desk for a map of our trails when you are here.
Snowshoe Trails in the Winter
Our trails are perfect if you like to snowshoe. Can you think of a more wonderful way to experience the beauty and peace of northern Michigan? We have a limited supply of snowshoes available for our guests at the front desk or if you have your own bring them along.
If you have never tried to snowshoe before, it is easy and very enjoyable. Visit us when the snow flies and check it out!
Indoor ~ Outdoor Pool & Hot Tub
Our heated indoor ~ outdoor pool offers hours of enjoyment either swimming, relaxing in the hot tub or sunning next to the pool. This pool is next to our conference room & office at our south entrance.
The pool and hot tub are open from:
Memorial Weekend through the 2nd weekend in September
December 26 for the Holiday Week
January & February weekends
Playgrounds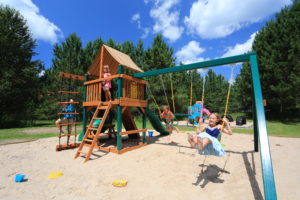 This summer the kids will surely enjoy our playground structures located behind the fitness center and also by the basketball courts.
Build a sand castle with the family
Outdoor Pool
The heated outdoor pool is open in July and August.
This very pretty area is located close to the outdoor tennis courts.
Pickleball Courts
Brand new courts, summer 2018, are the perfect addition to Trout Creek amenities!
These 2 courts are available to all Trout Creek guests. It is a super fun newer sport that kids and grown-ups will have fun playing.
Tennis Courts
Trout Creek has 4 on-site tennis courts for our owners and guests to enjoy.
For your convenience we have a limited supply of tennis rackets and balls at our front desk for you to sign out.
Other Fun Trout Creek Activities
Basketball Hoops
Corn Toss Game
Pickleball Court (bring your paddles!)
Sand Volleyball
Soccer Nets on open field
Games, books, jigsaw puzzles, movies
Fishing in on-site stocked ponds
Gas and Charcoal Grills