Trout Creek – more than just a bed…it's an experience
As you begin your search for accommodations in the Petoskey Harbor Springs area, we are certain that as you read through our website you will discover all of the reasons why Trout Creek is the perfect match for your next northern Michigan vacation.
The most important element when deciding where to stay, in our opinion, is our customer service. We are sure that you will feel right at home with our personalized level of friendly service. It is very important to us that you feel welcome from the minute you check in. It is truly our goal to assist you and your family in any way that we can to make this a memorable up north get-away.
The resort amenities are convenient and plentiful. Hiking trails, fitness center, tennis and pools to name a few.
Why choose a condo rather than a hotel?
"It has a kitchen, bathtub, laundry and more room! It feels like home and everyone is friendly" – Chris, February
"Love the space and the kitchen…love this location!", Jon and Michelle, July
"More appropriate for multiple ages of family: a fully equipped kitchen for a week is necessary", Kathy, June
"Kitchen, patio, easier to spend time together in a condo…hotels are cramped without kitchens or dining area" – Brian, July
Fresh Clean Air and Recycling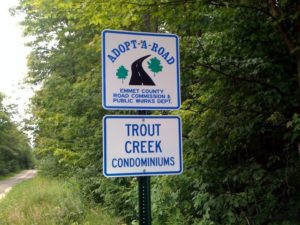 Trout Creek is committed to taking care of our environment. We have earned our Green Lodging Certificate for the past several years.
The staff adopted a 2 mile stretch along nearby Brutus Road where we clean it up every spring and fall.
When you visit ask about our on-site recycling program.